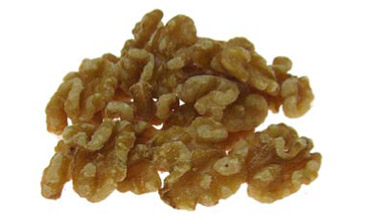 Country of Origin:
Greece
Ingredients:
Walnuts
Allergens:
Contains tree nuts
Storage Instructions:
Best stored in an airtight container in the fridge. Stored under these conditions the product should last 6 months.
Benefits
WALNUTS are Cholesterol Free
WALNUTS are a rich source of Omega 3 and Omega 6 fatty acids. These are currently under study for their ability to improve heart health, lower blood pressure & cancer prevention.
WALNUTS are a good source of Protein, Vitamin B1, B6, Folate, Vitamin E, Manganese, Biotin, Magnesium, Phosphorous & Copper
WALNUTS have often been thought of as a "brain food" because of their high concentration of Omega 3
WALNUTS are currently under study for their effectiveness in lowering "bad" cholesterol (LDL) in the blood and their ability to improve cardiovascular health.
Nutritional Information
Average Quantity Per Serving 100g
Energy
2840kJ (678Cal)
Protein
15.2g
Total Fat
65.2g
Saturated Fat
6.1g
Carbohydrate – Total
7.0g
Sugars
2.6g
Dietary Fibre
6.7g
Sodium
2mg